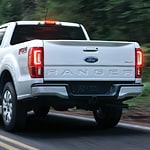 There are plenty of tough features on the Ford Ranger to soak in. This is one of the reasons why this is a mid-size truck that continues to be popular throughout the country today. You will find that it does just about anything you need it to. It is strong enough to carry a heavy payload and comfortable enough to haul the family around in.
You will appreciate the parabolic rear leaf springs. These are designed to be low friction, which enables each axle to move more freely. This reduced stiffness will make for a more comfortable journey in the rear when you are traveling over some rough roads.
You will also love being to tow along pretty much anything that you need with the Ford Ranger. This includes a trailer loaded down with 7,500 pounds of cargo. The powerful engine will have you getting to where you need to be. You can test drive the Ranger when you visit Capitol City Ford today.