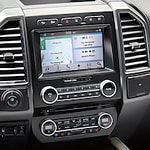 The 2020 Ford Expedition is a good off-road truck with great capabilities. Highlighted below are the capability features of the model.

Engine
The unit has a 3.5 L EcoBoost engine V6 producing 400 horsepower and torque of 480 lb-feet. The EPA estimated rating delivered on the city, highway, and combined is 12/24/20 mpg, respectively. The engine has two different technologies to complement it. That is the direct injection and the twin turbocharger for maximum and on-demand power delivery.

Hill-start assist and descent control
This technology controls the braking system when the vehicle is towing or stopping on an incline. Your vehicle power and capabilities are intact during this kind of rides. The hill starts to assist the anti-lock brakes until you move your foot from the brakes to the accelerator.

You can also visit our dealership today in Indianapolis to have a test drive and learn more about the Ford Expedition.