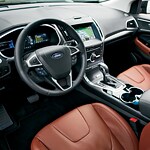 Individuals who prefer a midsize SUV with plenty of interior space and sufficient performance power choose the Edge. The vehicles at our Capitol City Ford facility have an impressive exterior appearance along with plenty of interior features.
The angular front end features a large geometrically shaped grille having honeycomb mesh. The grille is black matte in base models and surrounded in polished chrome in others. Angular headlights ride high on either side of the grille and veer up and back. Sharp lines accent the hood, sides and rear of the Edge. High-riding brake and taillights ensure visibility.
The interior seats up to five passengers with plenty of head and legroom. Base trim level models are upholstered in fabric and have power-adjustable driver's seats. New owners might also choose an Edge with leatherette or leather upholstery, heated front and rear seats. Ventilated and power-adjustable front seats are also an option.