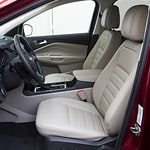 If you want a subcompact SUV that has amenities for your passengers and great conveniences for you as the driver, then stop by Capitol City Ford! We love showing off the panoramic Vista Roof as well as the second-row sliding seats for the Escape. There are also conveniences such as Waze technology and wireless charging!
You and your passengers will enjoy seeing the whole sky with the Vista sunroof! The back is a fixed skylight, and the front panel opens or tilts. There is also a sliding second-row seat which is great when the Escape is loaded with a lot of cargo. The back seat also splits 60/40.
Waze technology will help you find the fastest route to your destination with real-time traffic alerts. Other users report items on the road, accidents, and other circumstances, so you know what's ahead. There is also wireless charging in the Ford Escape, so you can make sure your smartphone is always ready.