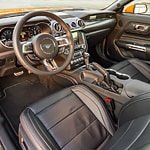 A Ford Mustang has very impressive handling capabilities. If you want to accelerate to top speeds in a powerful car without losing control on the road, a Ford Mustang can help you accomplish this. The Ford Mustang is a featured vehicle at Capitol City Ford.
When a Ford Mustang powers to destinations, many components work together to ensure proper handling. For example, the Mustang's independent suspension system reduces shock on the road while getting support from a power-assisted steering system.
The High Performance Package is standard for the Ford Mustang. Everything that's included with this package optimizes handling. However, if you want to make sharper turns with better precision, buy a Mustang and add the EcoBoost handling package. This package includes a MagneRide Damping System, large aluminum wheels, and more. Without the EcoSport handling package, the Mustang is still easy to control because its base suspension system ensures responsive handling.